THE NARROW ROAD TO LIFE

By Synthia Esther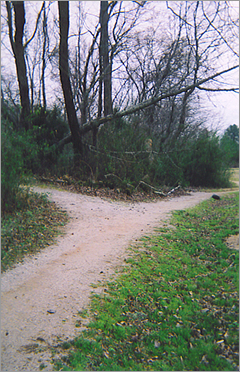 Mathew 7:13-14, "Enter through the narrow gate. For wide is the gate and broad is the road that leads to destruction, and many enter though it. (14) But small is the gate and narrow the road that leads to life, and only a few find it." John 10:9, "I am the gate, whoever enters through me will be saved."
Have you ever gotten lost in an area you weren't familiar with? Most people would probably agree it is a frustrating experience. I am terrible at directions but find with our modern technological advancement of navigational systems and map quest it has made people like myself a bit more relaxed knowing I have such directional help. It would be ridiculous to start out on a trip with all the directions but refuse to read them. God gave us his letter of direction for our life in his word the Holy Bible. Yet many within the world refuse to read from its pages, stumbling in the dark to get to the final destination "heaven" with out directional guidance.
Hosea 4:6, "My people perish for the lack of knowledge." We deceive ourselves if we claim to want to hear God's voice but neglect the primary channel through which it comes. Gods word contains the blue prints for walking the narrow road leading to life. Wisdom, knowledge and practical life application are found with in its pages. Friendship, romance, love, poetry are also recorded with in its chapters. But the most important truth you will find in the Bible is that Jesus Christ, the only begotten son of God, was the only man born who's purpose was to die. Salvation is found in no one else, for there is no other name under heaven given to men by which we must be saved (Acts 4:12).
Jesus Christ was the sacrificial Lamb on Calvary's cross who rose from the dead on the third day, victoriously defeating sin and providing humanity with ever lasting life. Because He lives I can face tomorrow. Because of His shed blood I am atoned for the many sins I have committed. You too can live with confident assurance as one of His children (1st John 3:1). Accept Jesus Christ as your personal savior, believing in His death and resurrection. With humble heart ask Him to forgive you of your sins, inviting Him to live within your heart, creating in you a new heart, mind and spirit (John 3:16; John 3:36; John 5:24, Romans 10:9-10; 1st John 1:9; 1st John 5:13). If you have said that simple prayer of forgiveness you have entered the gate on the narrow road to spiritual truth and everlasting life in Jesus Christ! May the God of hope fill you with all joy and peace as you trust in Him, so that you may overflow with hope by the power of the Holy Spirit (Romans 15:13).
ADDICTIONAL INSPIRATIONAL READING BY SYNTHIA ESTHER