WICKED GAMES PEOPLE PLAY

YOU SHOULDN'T PLAY THIS GAME, YOUR IN OVER YOUR HEAD
By Synthia Esther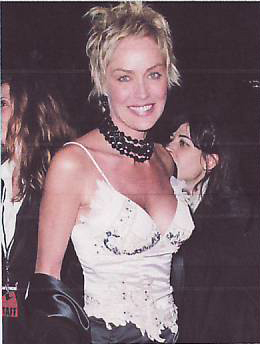 Recently the 1992 movie "Basic Instinct" was on public television, as an edited version of the original movie. Lust, murder and passing a lie detector test hold the viewer's captive interest. With lesbian scenes, S&M undertones, and voyeuristic activity the plot only thickens with the addition of an ice pick. Sharon Stones comment to Michael Douglas, "You shouldn't play this game, your in over your head", rings true of all of Satan's ploys, foolish pleasures, addictions, crimes, and lustful appeals.
Passing a lie detector test is something that many of the top military are trained to do. While watching the Scott Peterson trial I was amazed at the identical behavior manifestations Ryan had to Scott. From his smile, to his false persona of ideological lies and fantasies, his likable and often charming, charismatic personality would win over your daughter, mother, father, grandparents and the entire United Nations. Once you have been face to face with a narcissistic personality type and learn their mode of operation you come to realize there is more to their behavior than meets the eye. A personality persona that is quite different in public, than in private.
I have heard and researched when you believe the lie you tell is the truth, you can pass a lie detector test without a problem, even when lying. A text book gives you facts but in no way can compare to personal experience. Most narcissistic people pride themselves in their intelligent methods of calculated manipulation and deception, which is often termed as "Emotional Rape" within psychologist terminology.
How do we within the Christian community protect ourselves from such personality types? Often times we can't within our own power of discernment. It takes God's super natural providence and wisdom to help us. How do we receive such power of discernment? Through the guidance of the Holy Spirit and God's anointed word. The closer we get to God and His word the wiser and more intuitive we become. His word is filled with wisdom, knowledge and insight (Proverbs 2).
Guidance from the Holy Spirit directed and enabled me to find out I was involved with a deceptive narcissistic sociopath ( Reading reference, "Foolish Pleasure – The Love Story Of A Sex Addict, His Betrayal And Crime"). When studying the attributes and ministry of the Holy Spirit I was surprised to discover that each was related to some special need of man. It is the Holy Spirit who brings us wisdom, faith and the power of God within. All that is in God is brought to us by the Holy Spirit. The following is a list of the moral attributes, direction and spiritual insights of the Holy Spirit of God:
Knowledge - Isaiah 11:2
Wisdom – Isaiah 11:2; Ephesians 1:17
Counsel and Might – Isaiah 11:2
Grace and Supplications – Zechariah 12:10
Judgment – Isaiah 4:4
Burning – Isaiah 4:4
Breath of the Almighty – Job 32:8; 33:4
Spirit of Him that raised Jesus from the dead – Romans 8:11; 1st Peter 3:18
Power of the Highest – Luke 1:35
Eternal Spirit – Hebrews 9:14
Spirit of Holiness – Romans 1:4
Comforter – John 14:16, 20: 15:26: 16:7
Spirit of Love - 2nd Timothy 1:7
Spirit of Truth – John 14:17; 16:13; 15:26; 1st John 4:6
Spirit of Life – Romans 8:2; Revelation 11:11
Spirit of Adoption – Romans 8:15
Spirit of Faith - 2nd Corinthians 4:13
Spirit of Promise – Ephesians 1:13-14
Spirit of Grace – Zechariah 12:10; Hebrews 10:10:29
Spirit of Glory - 1st Peter 4:14
Spirit of Wisdom and Revelation – Ephesians 1:17
Spirit of Prophecy – Revelation 19:10
The Good Spirit – Nehemiah 9:30; Psalm 143:10
The Free Spirit – Psalm 51:12
The Unction from the Holy One - 1st John 2:20
The Anointing which teaches us - 1st John 2:27
The Voice of the Lord – Ezekiel 1:24; Genesis 3:8; Isaiah 6:8
Within the Biblical New Testament and the Old Testament the Holy Spirit of God is at work. As redeemed Christians, the Holy Spirit dwells within us. When faced with life decisions, it is the Holy Spirit that gives us wisdom and revelation. When we pray allowing God and His Spirit to lead and guide us, we are better able to cope, discern, rebuke and avoid possible harm, destruction, pain and sorrow. It is wise to listen to the wisdom of your God given "Holy Spirit" inner voice of reason. You never know when it could save you from the wicked games people play or an ice pick in your back!